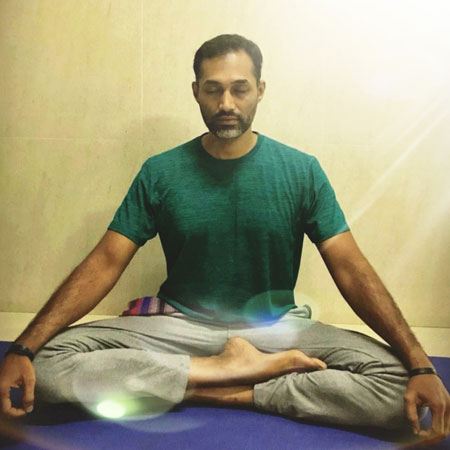 P.R. KRISHNAKUMAR
Yoga Trainer
Krishnakumar started his career as a computer professional in the Middle East, but his interest in Indian culture and disciplines coaxed him to return to his native place. A patron of ancient healthcare disciplines, Krishnakumar then pursued a career in the tourism industry and headed the healthcare tourism section. He simultaneously began learning Yoga and Ayurveda. An ardent practitioner by himself, it did not take him much time to realize that yoga actually helps to deal with the trials and turbulations of modern life. He found himself soaring ahead in his career with application of the new found wisdom. He wanted to explore different dimensions of this discipline and wanted to share his knowledge with others. So he resigned his job and enrolled for a registered yoga trainer course. He also did a course in sports medicine. But that was not enough for him. Something was still missing. So he embarked on a soul-searching journey around the country in search of genuine masters to quench his thirst for wisdom. His interactions and learning sessions with them helped him to evolve himself in a holistic manner.
Now Krishnakumar has dedicated himself to sharing this invaluable wisdom among students who are genuinely interested in learning this mystic discipline. His classes are a good blend of traditional wisdom and modern scientific knowledge. Known for his equanimous attitude, Krishnakumar holds the view that knowledge about oneself is the road to self-contentment.
PRAJOSH PRASANNA
Yoga Trainer
Prajosh was interested in ancient Indian disciplines from a very young age. He learnt Kalari [Northern Style] under the traditional gurukula system along with several other art forms like parichamuttu, kolkkali, etc. and instruments like chenda (percussion instrument). Soon, he realized his leaning towards meditation. So, after his Kalari training, he went on to pursue yoga and mastered the basics under the guidance of a traditional master.
In his classes, he uses various elements of Kalari to help yoga practitioners achieve perfection easily. His classes are rooted in relaxation and awareness building whilst helping everyone to push their limits when it comes to postural training. He also trains yoga students and sports professionals in Athletic Yoga incorporating the dynamic movements of Kalari.
Dr. DEEPA ANAND
Medical Advisor
Dr. Deepa Anand BAMS MSc CND is an Ayurvedic Physician having clinical practice for over a period of one decade. She carries sound experience in the Ayurvedic treatment form for all common ailments. She is passionate to work in public forum and provides health and nutrition training. Her passion for cooking take her to pursue a Masters degree in Clinical Nutrition and Dietetics.She hails from a moderate family and has seen her father nurturing clinical laboratory outlet being a technical faculty at Trivandrum Ayurveda College.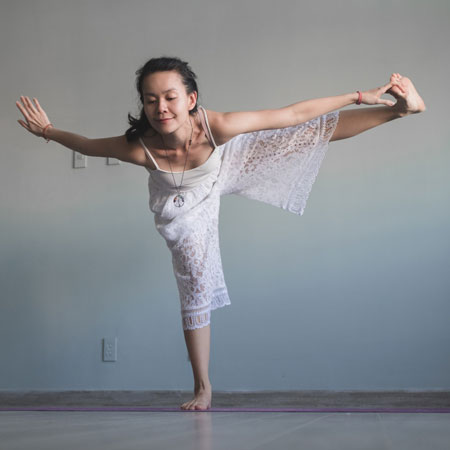 LU WEI WANG (ANNA)
Strategic Planning Manager
Anna, a former Product Manager, an expat, and a traveler, started her yoga journey from the year 2014. She is a Registered Yoga Teacher from Yoga Alliance. Yoga initiated a change in her life, her perceptions, and core values. Yoga led her to Rishikesh, the yoga capital of the world. Rishikesh metamorphosed her life into a better version - she became a vegetarian, a top yoga teacher, and an outstanding entrepreneur.
Anna leads the classes for beginners in Ashtanga Yoga, Vinyasa Flow, Restorative Yoga, and Body Alignment Yoga. She integrates Tibetan Singing Bowl into her sessions, which gives her classes a different feel.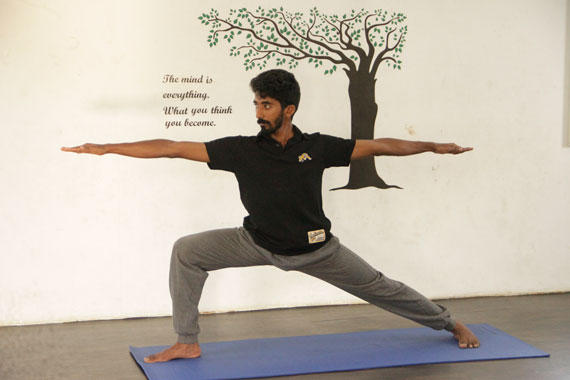 AKHIL ASHOK -
Junior Trainer
Akhil is a yoga instructor who's passionate about fitness and strives to optimise performance through a holistic approach. He is also a practitioner and ardent student of a traditional martial arts called Kalaripayattu which has therapeutic and fitness applications and he has been able to blend it well with yoga and provide it to the clients to reach their fitness goals effectively. He has worked with a wide variety of clients as he was a yoga and fitness instructor in schools which also involved special students in the learning disability and autistic spectrum and he was able to bring positive changes in their academic and physical abilities. He has also worked with many premium gyms and fitness centers helping fit clients get fitter. He has also worked with senior citizens with specific health concerns and helped them cope and adapt to daily activities through yogic approaches. He has also worked with celebrities who require drastic changes in a short time period. During lockdown times he has provided many online sessions on fitness, meditation, mindfulness, and philosophy of yoga. He is also working with a school in Saudi Arabia as their fitness consultant providing online support and fitness sessions.